Shared coliving spaces have become a natural extension of the explosive coworking movement, reinventing the way people live and interact around the world. Thousands of young professionals are opting to join intentional communities of like-minded people, blurring the lines between work and play.
These coliving spaces attract entrepreneurs, freelancers, startup teams, and traveling independent workers. Residents seek an autonomous lifestyle, but they value the growth that comes from immersing themselves in a stimulating environment.
While planning my travels, I realized I wanted to prioritize community and productivity, staying in coliving spaces as much as I could instead of hostels or Airbnbs so I could productively work remotely.
MY FAVORITE COLIVING SPACES
Here are a few beautiful coliving spaces that spoke to me: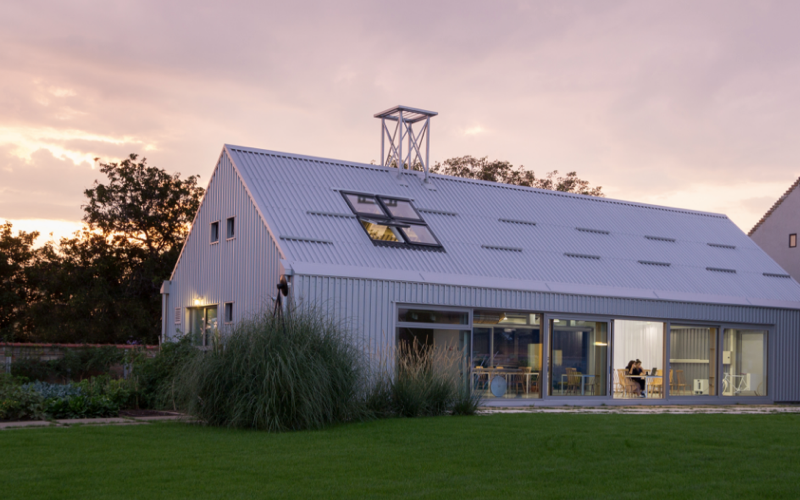 Located north of Serbia, Mokrin House is a stunning coliving space nestled in a rural surrounding. The modern workspace is open 24/7 and was designed to optimize productivity. Mokrin House offers workshops and seminars, a swimming pool, bikes for use, and more. The best part? They provide 3 homemade, healthy meals per day! Read my interview with the founder of Mokrin House on the future of coliving.
Location: North of Serbia
Size: Around 14 guests stay in dorm rooms, private rooms, and large comfort rooms.
Price: For a shared dorm, from 289 Euro per week or 993 Euro per month ($316 per week or ~$1086 per month). Single bedrooms are around 535 Euro per week (~$585 per week).
Community: For freelancers, entrepreneurs, and digital nomads who want to stay anywhere from 2 days to 2+ months. It's perfect for people who want a quiet oasis to focus away from the city.
How to stay: Fill out a reservation form on their website

here

to inquire about availability.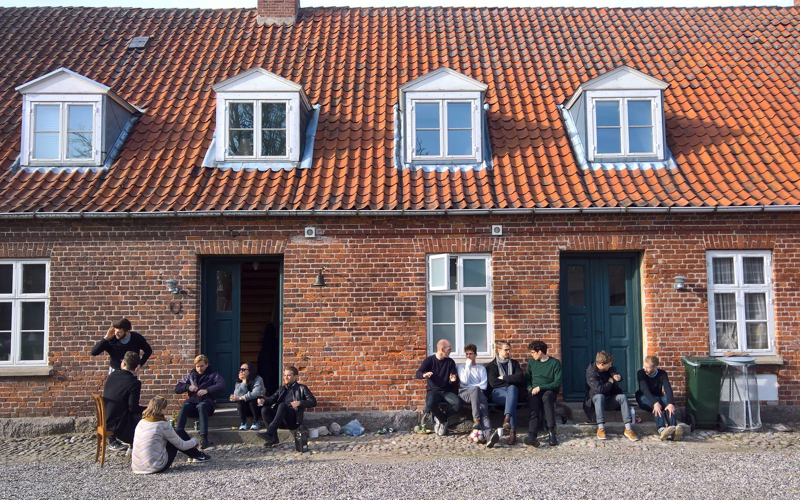 Nesters live like family in a community of 21 entrepreneurs living across four apartment suites. In addition to working and collaborating together, residents play pick-up sports, host fireside chats and movie nights, and explore the city. The community gathers every other Sunday to eat dinner together – one of the few house rules.
Location: Copenhagan
Size: 21 entrepreneurs living in four apartments
Price: $660-$1175 per month depending on room size
Community: Generally, residents are between ages 21 and 35. Nest attracts ambitious entrepreneurs and founders.
How to stay: Apply on their website to be added to an open Prospect List. When a room opens up, Nest will contact you (typically with three months notice).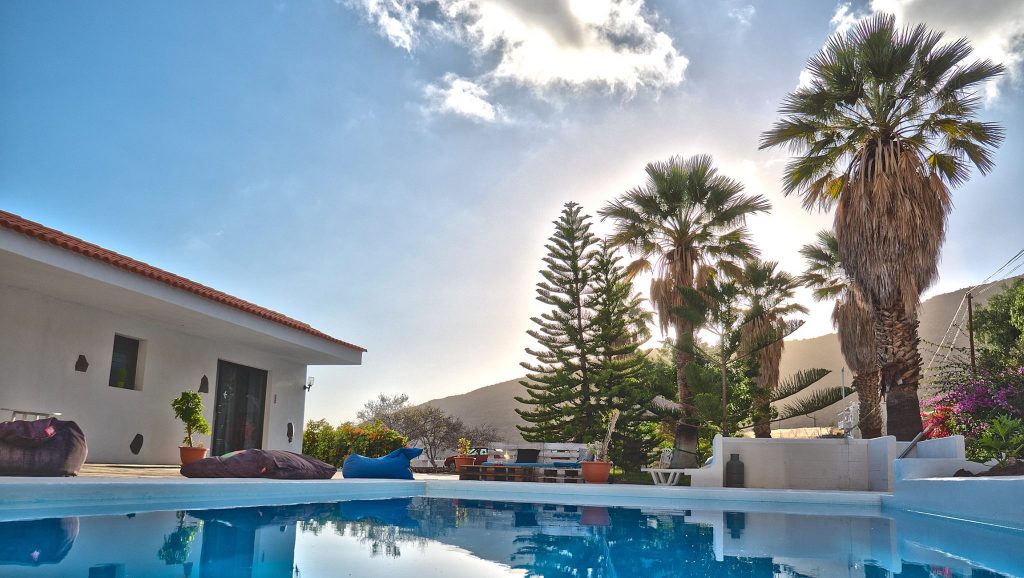 Located on a beautiful island in Spain, Wolfhouse brings together startups and teams for company retreats. Startups and remote teams from around the world come to live and work together under one roof. After a productive brainstorming or work session, crack a beer while overlooking the sunset on the deck or jump in the pool. Wolfhouse will help provide discounts on additional reserved activities for team bonding – bubble soccer, wine tasting, kitesurfing, and more!
Location: Tenerife, Spain
Size: Usually hosts 1 company or team at a time, unless it's a joint event or retreat
Price: Starting at 35€ per person per day for teams (Around $41 USD)
Community: Wolfhouse attracts companies, teams, and startups who want to host their offsites or events in a unique destination. Often, remotely distributed teams come together to meet in person for quarterly or yearly retreats at Wolfhouse. Occasionally, you'll find looser teams of coworkers and freelancers.
How to stay: Apply on their website for a quote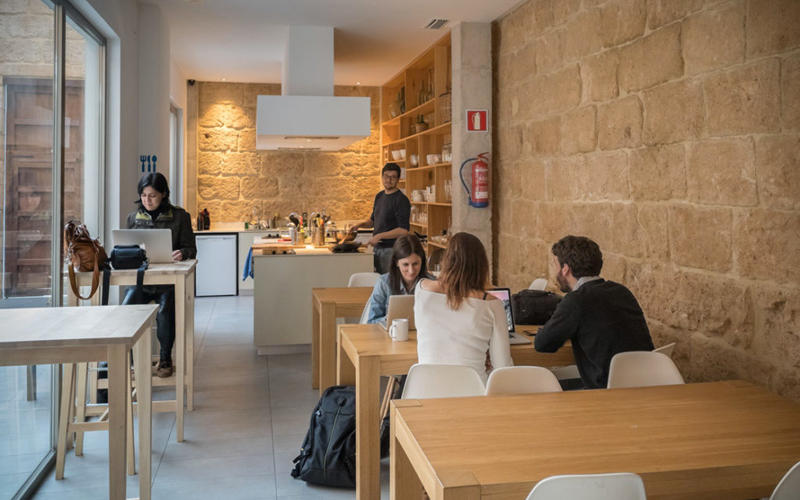 Sun & Co. is the first coliving and coworking community on the Mediterranean Coast. It's a productive space set in a historic old town by the beach. Entrepreneur come together to cook, attend focused Mastermind and Skillshare sessions, and enjoy cultural activities in the neighborhood.
Location: Javea, Spain
Size: 20 location independent professionals living in private, double, and quad rooms.
Price: Private rooms from 33 Euro/day; Shared rooms from 18 Euro/day ($590/month~$1082/month)
Community: Sun & Co. attracts location independent workers, freelancers, digital nomads, and entrepreneurs. From the reviews, it seems like a very warm and open-minded community run by awesome people. Many return multiple times a year and consider it a second home.
How to stay: Check for availability by contacting the hosts, Edu and Jon, on their website

here

. Be sure to check in advance since spots fill up!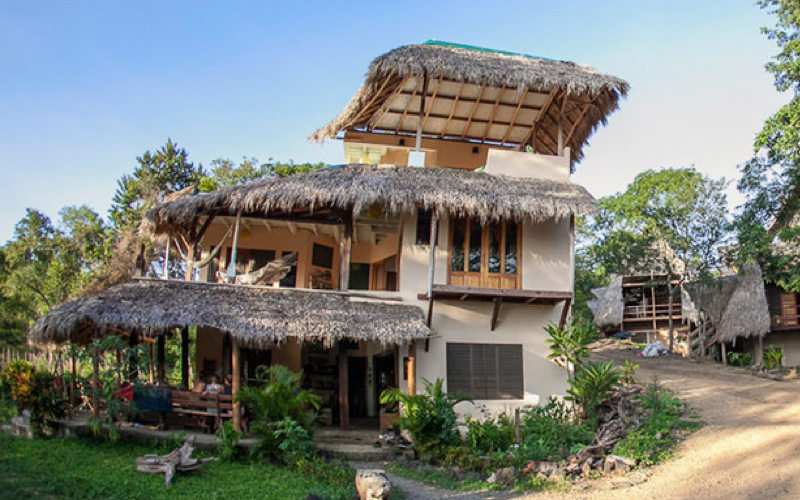 Maderas Village is a high-end, intentional community that brings together professionals and creatives from around the world. Choose to stay in shared or private rooms, casitas, the penthouse, or cabanas.
Location: Nicaragua, Central America
Size: Upwards of 40 people
Price: Shared rooms around $40 per night; and private rooms around $115 per night. If you want to splurge, the penthouse is available for $200 per night.
Community: For modern travelers, creative professionals, entrepreneurs, and leaders who are looking for a great short-term place to stay. Individual bookings have a ten-night maximum stay.
How to stay: Book online

here

. Be sure to book about three months out for the high season (November – May).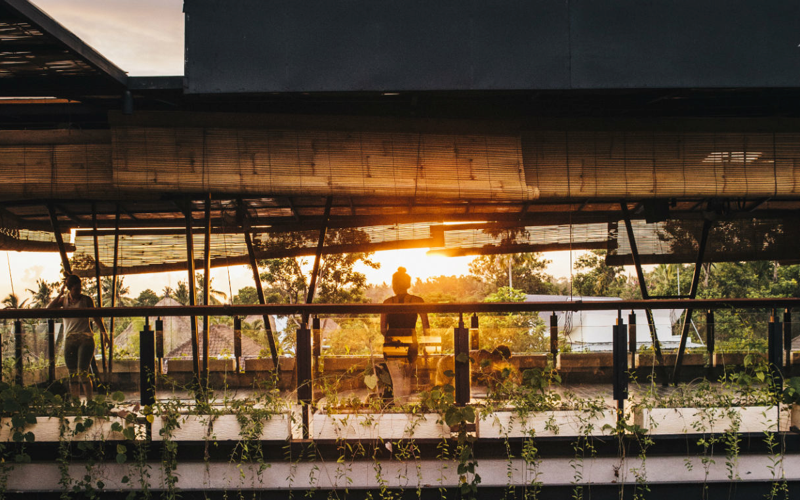 Building a network of global coliving spaces, Roam aims to gather diverse communities. They have locations in Miami, Bali, Tokyo, London, and are expanding to San Francisco and many more cities. Roam organizes cultural and local events for members, from pop-up dinners with up-and-coming chefs to weekend getaways.
Locations: Miami, Bali, Tokyo, London, San Francisco (coming soon)
Size: Anywhere from 20 rooms to 38 rooms, depending on the location
Price: Starting at $500 per week, depending on the location
Community: Roam is perfect for adventurous and productive people who want to live as a part of a local community. It's a great place to stay for location-independent professionals who don't want to worry about the logistics of their work set-up, appreciate privacy, and want to meet inspiring people.
How to stay: Apply to stay on their website here
Outpost is a beautiful coliving and coworking space located in Ubud, Bali. While Outpost is mainly used for coworking and hosting team offsites, they also offer two stunning 3-bedroom villas an eight-minute walk away. Its strong wifi, warm environment, and productive space draws people from all over Asia and the world.
Location: Bali, Indonesia
Size: A big coworking space for over 125 people
Price:

Price per room ranges from $975-$1400/per month and includes full-time Outpost membership (a $209 value), breakfast, and maid service.

Community: Entrepreneurs, freelancers, startup teams, and digital nomads frequent the coworking space. The beautiful villas attract people like CEOs and productivity coaches.
How to stay: Contact Outpost on their website here
High-End Coliving Spaces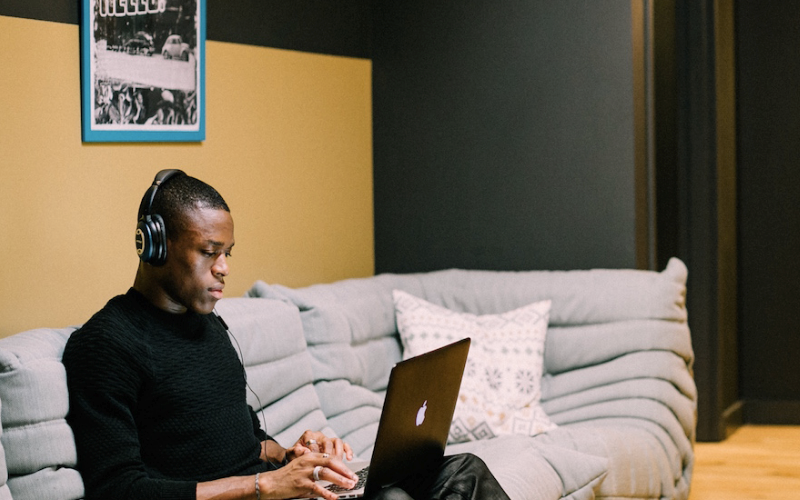 WeLive is a new concept brought to you by the fastest-growing global coworking company, WeWork. With initial complexes in New York and DC, it is quickly expanding to launch residential communities around the world. WeLive and WeWork are creating new ways of living and working, built upon community.
Locations: NY, DC, more coming
Size: Housing upwards of 600 people in multi-story high-rises, depending on the location
Price: 4-bedrooms starting at $1,900 per person per month and private studios starting at $3,050 per month (NY). 4-bedrooms starting at $1,200 per person per month and private studios starting at $1,640 per month (DC). Stay for just a night, or as long as you like.
Community: Entrepreneurs, teams, and professionals who pay a premium price for a communal living environment with hotel-like perks (housekeeping, yoga, and free beer) – without having to sign a long-term lease.
How to stay: Reserve online to

move in for a few months

or

stay for a few nights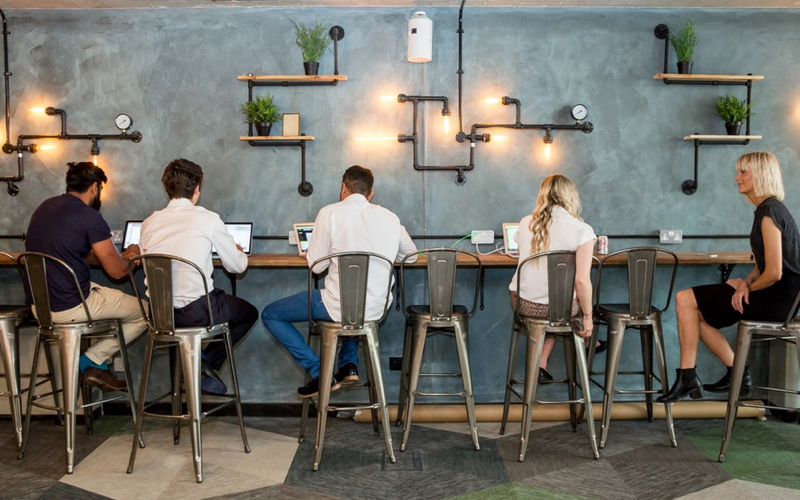 The Collective is an ambitious high-end coliving space in London that houses a community of 500. Stay in modern, serviced apartments and feel right at home. The Collective boasts hotel-like amenities so you have everything you need: a communal lounge and kitchen, roof terrace, secret garden, game room, spa, gym, and much more.
Location: London
Size: Huge! 500 entrepreneurs living in ensuite rooms, studio rooms, one bedroom apartments, and 2 bedroom flats
Price: Rooms start from 230 pounds per week ($1184 per month). Note that many reviews say the rooms are small – but that's okay, because the common spaces are so nice.
Community: The Collective welcomes entrepreneurs, professionals, and creatives of all kinds. It's suited for longer-term housing.
How to stay: Pick a room and move-in date

here

, share a little bit about yourself, and pay a holding deposit to secure your room. You'll need a utility bill or bank statement as a proof of address and

proof of annual income of £28,000 or b) A UK-based guarantor's ID and proof of address and income.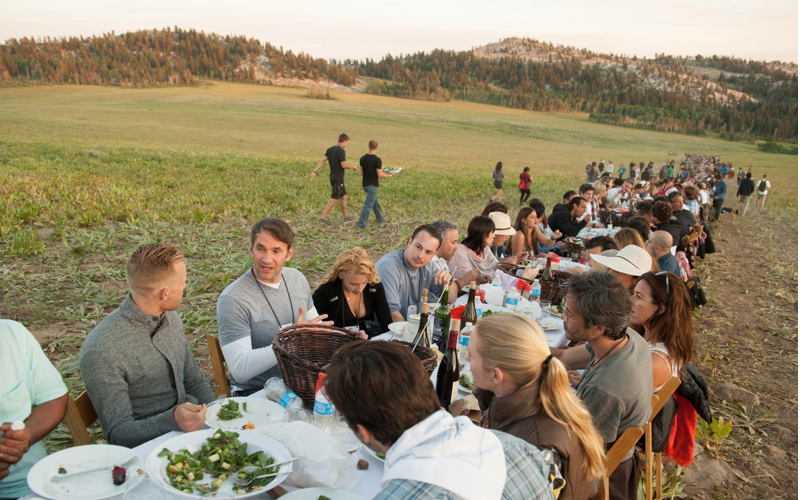 Summit is building a permanent neighborhood community in the mountains of Eden, Utah. The community, focused on "innovation, entrepreneurship, arts, and altruism," seeks to gather friends, family, and change-makers to drive collective growth. While known for the popular Summit at Sea cruise and worldwide flagship events, Summit is now focused on creating a permanent home for its intentional community.
Location: Eden, Utah
Size: A large neighborhood community of 500 properties on a mountain, with access to 7000 skiable acres
Price: Inquire online for information on property
Community: The Summit community is diverse, made up of not only entrepreneurs, CEOs, and thought leaders but artists, philanthropists, award-winning chefs, musicians, and change-makers of all ages.
How to stay: Summit Powder Mountain is an invite-only community where residents purchase long-term property. Prospective neighbors can inquire online

here

.
Special Mention – Retreats and Trips:
There are many companies that host organized trips for location independent entrepreneurs and professionals, as well as remote employees and people on work-cations. These are highly curated, and people can apply online:
Start Creating
If you want to overcome your limiting beliefs and accelerate progress towards your dreams, check out the short thought experiment below.
6 Limiting Beliefs Keeping You From Your Dreams — And a Thought Experiment to Overcome Them:
Click here to get the thought experiment now!
Keep Reading